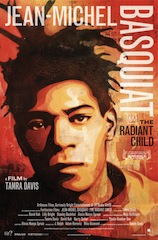 Written & directed by Tamra Davis
Produced by Davis, David Koh, Lilly Bright, Stanley Buchtal & Alexis Manya Spraic
Edited by Alexis Spraic
Cinematography by Tamra Davis, Harry Geller & David Koh
Released by Arthouse Films
USA/Germany. 90 min. Not Rated
[Article originally appeared: http://film-forward.com/jeanmichel.html]
"Jean-Michel Basquiat: The Radiant Child" is largely the result of old video tapes sitting in a drawer for over 20 years, says director Tamra Davis. According to Davis, she was friendly with the young artist back in the early '80s, having first met him in Los Angeles when he was an emerging street artist and she was a gallery assistant and film student. Some time later during one of Jean-Michel's prolonged stays in Los Angeles, he sat for a number of interviews and also allowed Davis to film him painting in his studio. She hadn't even decided what to do with the tapes before Basquiat's untimely death. Not wanting to exploit or profit from her friend, the tapes languished in a desk drawer until a retrospective spurred her to edit a short. The feedback encouraged her to finally dust off the tapes and put together something substantial. According to Davis, "It was important for Jean-Michel's voice to be heard and for the real story to be told."
Jean-Michel Basquiat was a true American original. He first emerged on the downtown art scene when he was barely an adult. He grew up in a nice Brooklyn neighborhood, the son of a Haitian born businessman and Puerto Rican mother. Rejecting his middle-class origins, the young Jean-Michel dropped out of high school and fled to the East Village, which back in the late '70's was mostly tenements, squats, and drug dens. Along with his friend Al Diaz (interviewed in the movie), Basquiat began spray painting seemingly esoteric and cryptic quotes all around lower Manhattan walls, sidewalks, and subway cars. He would sign off with the moniker "SAMO," for Same Old Shit. Everyone wondered who SAMO was. Basquiat, through a mix of talent and ambition, took the credit, and the art scene embraced him. His rise was very quick, and he would soon join Keith Haring and Kenny Scharf as downtown royalty.
The film's title is derived from a well-known article published in Artforum Magazine back in 1981. The story, written by Rene Ricard—largely credited for discovering Basquiat— was called The Radiant Child, and it was the first major piece on the young artist. The documentary mixes Davis's Basquiat interviews with contemporary talking-head interviews with such art world luminaries as the art dealer Bruno Bischofberger, gallery owner Larry Gagosian, and artist Julian Schnabel, as well girlfriend Suzanne Mallouk and friends Diego Cortez and Fab 5 Freddy. Collectively they describe the rise and inevitable fall of this truly brilliant talent.
It's clear from this documentary (as well as from the 1996 Schnabel biopic) that while Basquiat might have been shrewd, his skin was very thin. He basked in his fame and notoriety but was deeply wounded by the racism he faced in the art world—he didn't have the wherewithal to take on the entire establishment. He even struggled with his closest relationship during his years of fame, to Andy Warhol, never being sure if he was a true friend or merely being used by the aging pop artist. A collaborative exhibition starring Basquiat and Warhol was torn to shreds by the critics and was widely considered a disaster. The backlash and Warhol's subsequent death seemed to push Jean-Michel over the edge. One dreads the final minutes of Jean-Michel Basquiat. A stimulating story to be sure, but we know what the end holds in store. Basquiat would die of an overdose in 1988 at the age of 27.
Basquiat would paint on anything and then simply nail it to the wall. It was not unusual for him to use discarded objects found on the street or put a masterpiece on the refrigerator door. Junk was his canvas. Was that the way he saw himself? Tamra Davis's documentary gives us as close a look as we're likely to ever get. Also worth noting is a very groovy soundtrack, a contribution by at least two thirds of The Beastie Boys.