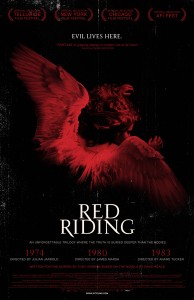 "In The Year of Our Lord 1974"
(Director: Julian Jarrold)
"In The Year of Our Lord 1980"
(Director: James Marsh)
"In The Year of Our Lord 1983"
(Director: Anand Tucker)
[Artical originally appeared: http://www.westviewnews.org/cms/index.php?option=com_content&view=article&id=786:film-review-red-riding-trilogy&catid=43:articles&Itemid=170]
What I love about British film making is its commitment to story and character. Naturally, they will churn out the occasional blockbuster but the legacy of classically trained acting has endured from those post-war Ealing Studios comedies ("The Ladykillers") to the Kitchen Sink dramas with their angry young men ("Look Back in Anger"), and in more recent years, from Merchant Ivory adaptations to the more gritty films of Mike Leigh and Ken Loach. No matter, the legacy of English story-telling gives moviegoers something to sink their teeth into. Not to Hollywood-bash – that's too easy – but it's hardly a secret that budget and bottom line box office are what drives that machine. And the surest way to bring in the big numbers is to bring out the big name actors. It's part of our legacy and we do it quite splendidly at times. After a summer or Christmas season one can, however, feel a bit malnourished. That's why sitting through five hours of the "Red Riding Trilogy", while difficult at times, was such a breath of fresh air.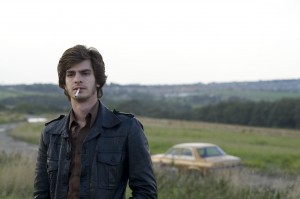 The trilogy, which recently enjoyed a run at the IFC Center, looks so authentically like it was filmed in the 1970s or 80s – the time when the three stories take place – you might swear these were thirty-year-old British TV crime dramas. The verisimilitude is also helped along by the absence of name actors. Not to say there aren't a great many faces any anglophile would recognize but just don't expect Hugh Grant or Harry Potter to appear. The three films, which work out the intricate truths behind a series of serial killings in the Yorkshire section of England, are brutal and dare you to sit through them in one seating. And you needn't; you can see them one at a time, (recommended) then go do something more uplifting, like catch "Shutter Island" or "The Wolfman".
The three films adapted from a series of novels by David Peace take place over a span of about ten years. They are aptly directed by Julian Jarrold (1974), James Marsh (1980) and Anand Tucker (1983). The fact that their titles are named for the years in which they take place, preceded by the words "In The Year of Our Lord", give the films a faintly stuffy old-fashioned feel. That would be correct. This was during a time when we took our leaders' honesty or dishonesty for granted; or better said, that we accepted their flaws more passively: They may be corrupt bastards but they're ours. Those who abuse power in the "Red Riding" films cover the spectrum, including the local civic-minded (read developers), the constabulary and, naturally, the clergy. A select few have a conscience, and inevitably, they are the ones who bring the story's darkness into the light. But it should be said that the line between good and evil is intentionally fuzzy. Seemingly benign minor characters from the first film play a more central role in the later segments. Protagonists are killed off and quite suddenly their narrative dies with them. Usefully, however, flashbacks increase as the films go on in order to fill in any gaps in the plot line. These three films demand your attention. Not just because the northern patois can be very hard to understand but because there are so many interwoven characters and subplots. In the end, all the grisly truths come out and whether or not redemption is ultimately had is still left in question.
It just proves, when you are not beholden to the Hollywood system, you can create a movie with an ambiguous ending. The absence of formula is what makes this otherwise genre crime drama so compelling.