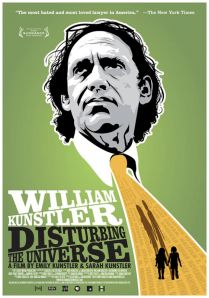 Directed by Emily Kunstler & Sarah Kunstler
Edited by Emily Kunstler
Cinematography by Brett Wiley & Martina Radwan
Original Music by Shahzad Ismaily
Released by Arthouse Films
USA. 87 min. Not Rated
[Article originally appeared: http://www.westviewnews.org/cms/index.php?option=com_content&view=article&id=676:our-man-kunstler&catid=43:articles&Itemid=170]
I received an invitation to an advanced screening of William Kunstler:
"Disturbing the Universe at the Cinema Village". The invitation came from the Center for Constitutional Rights, an organization Kunstler co-founded in the mid-60's. This documentary was directed and produced by Kunstler's daughters Sarah and Emily who were still teenagers when Kunstler died in 1995 at age 76. [I should disclose that I had a passing acquaintance with both daughters in the 1980s when we all attended the same summer camp in Vermont; they as campers and myself as a counselor.]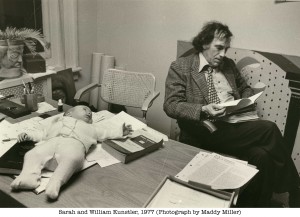 The film is something of an homage to their father, and also clearly a catharsis. In between the traditional talking heads, which include Alan Dershowitz, Phil Donahue and Bobby Seale to name just a few, the two daughters revisit a number of sites where several of his most celebrated cases played out. Some very moving moments exist amidst all the colorful anecdotes. One such moment is when they are standing outside the walls of Attica Prison almost 40 years after 2,000 prisoners rioted and took over the prison and where, by the time the prison was re-taken, the death toll included nine hostages and twenty eight inmates. All of the bullets were shot from New York State law enforcement weapons, something which had been covered up initially. Sarah and Emily stare at a memorial outside the prison walls which only lists the hostages who were killed – the next moment all the names of the slaughtered prisoners appear on the screen, the first time such a list has ever been published. Footage of Kunstler inside the walls just hours before the blood bath shows a man who saw the prisoners as human beings, and ones whom were being denied basic human rights. Through this experience as well as his work with the Chicago Seven, the Black Panthers and the Native Americans at another stand-off at Wounded Knee, Kunstler's radicalization was complete. Years later, as he settled into family life on Gay Street here in the West Village, he took on less and less popular cases including the Central Park jogger defendants and the assassin of Meir Kahane. Among his critics in those days were his two young daughters. "Disturbing the Universe" doesn't try and re-make Kunstler into a saintly defender of the constitution, just a complex man who attempted to bring racism into the bright harsh light of day.