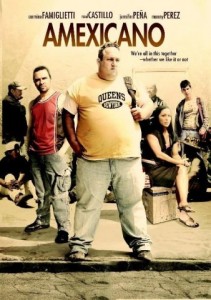 Directed by Matthew Bonifacio
Written by Carmine Famiglietti
Produced by Matthew Bonifacio & Carmine Famiglietti
Cinematography: 
William M. Miller
Edited by Morty Ashkinos & Ilya Magazanin
Music by Kerry Muzzey
Cast: Carmine Famiglietti, Raúl Castillo, Jennifer Peña, Michael Aronov & Manny Perez
U.S., 2007, 84 minutes
"Amexicano" tells two stories, the first a light hearted ethnic comedy about the growing friendship between an Italian American and a Mexican immigrant both struggling with their co-dependency for each other and the stronger need for a paycheck. The second story is a much darker one about just how precarious the life of an illegal immigrant can be. While this often charming indie film presents a vivid and convincing portrait of both sides of the coin, its turn in narrative might feel abrupt to some. If that's the worst that can be said about director Matthew Bonifacio's film which premiered at the 2007 Tribeca Film Festival last year, then he should feel proud of the outcome.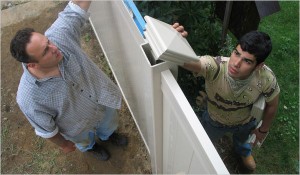 Bruno (Carmine Famiglietti) is an unemployed underachiever living in a basement apartment in Flushing, Queens. Prone to laziness and late with his rent, Bruno is given the opportunity to do some contracting work for his landlord and friend, Alex (Michael Aronov). When it's clear that the work is too much for just one man, Alex suggests that Bruno pick up one of the many Mexicans who populate a particular corner on Northern Boulevard. After choosing one bad apple -a bully (a convincing Manny Perez) who ends up playing a pivotal part later in the story– Bruno ends up hiring Ignacio (Raúl Castillo) , a hard working and dependable soul. The two are initially suspicious of one another; Bruno claims that English should be the only language spoken in the United States while Ignacio who gives the impression of not speaking any English at all, keeps the small talk to a minimum. But we learn that Bruno is no Archie Bunker (neither was Archie Bunker, when you got down to it.-Ed.), despite the inclinations he expresses at first. And it's through his growing admiration of Ignacio's work ethic that Bruno shags off his own lazy tendencies, both work-related as well as bigotry-wise.
It's not until the second chapter that we are introduced to Gabriela (Jennifer Peña), who to Bruno's disappointment, is introduced as Ignacio's wife. It's a good point in the story to introduce a female because we are already finding Bruno a far more attractive character by now. His crush on Gabriela and her responsiveness to it is credible at this stage. Their relationship is too complicated to develop into anything other than a friendship but it does present a second love story of sorts, one that tips the film into darker terrain. Another complication is Bruno's relationship with Alex who mistakenly believes that Ignacio has stolen a piece of expensive equipment from his truck. When Bruno defends Ignacio, he quickly loses Alex's friendship as well as his job and tenancy. This unfortunate turn of circumstances only helps create a deeper bond between Bruno and Ignacio. When Bruno becomes unemployed, Ignacio insists they continue working together as a team. Normally, the site of a white guy standing on the corner with Mexican illegals should come off as a site gag. In this case, however, through his respect for his fellow day laborers, we finally see Bruno as a man and as Ignacio lovingly refers to him, an Amexicano.
The film ends on something of a harsh note, one the audience might feel ambivalent about especially since the crux of the film feels like a comedy. But Bonifacio's direction is sturdy and the characters are far more realized than most Hollywood big name movies. "Amexicano" is also helped along by its infectious Latin soundtrack and sound editing.