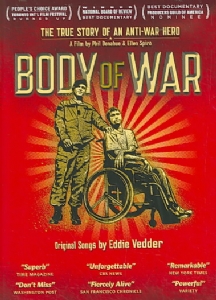 Produced and directed by Phil Donahue & Ellen Spiro
Director of Photography: Ellen Sprio
Edited by Bernadine Colish
Music by Jeff Layton
Original songs by Eddie Vedder
Released by the Film Sales Company
USA. 87 min. Not Rated
Article originally appeared: http://www.film-forward.com/bodyofwa.htmlhttp://www.film-forward.com/bodyofwa.html

I would never have guessed that the image of Senator Robert Byrd reading from the Constitution would end up being one of the most profound moments I've seen on film, but in "Body of War", a powerfully moving documentary, it's only one of many such moments. The venerable senator pleads with an overly fervent congress to slow its course and practice caution on the eve of its vote to give President George W. Bush power to declare war. From his decades of experience (at 90, he has served longer than any other senator in history and is its oldest member), Byrd has learned the advantages of prudence, something which his colleague in the executive branch has shown little appreciation.
Having sat through copious documentaries on the subject of the war in Iraq ("Fahrenheit 9/11", "No End in Sight") and Afghanistan ("Taxi to the Dark Side"), one wonders if there really is much more to mine from the subject. The answer is a resounding yes. Tomas Young, now 28 years old, was shot and paralyzed within days of being deployed to Iraq. His gripping and often painful story is at the film's center, as is how he comes to terms – both medically and emotionally – with his injuries. We share in his sense of betrayal when he recounts how he proudly volunteered on September 13th, 2001, after hearing his president declare from the rubble that had been the World Trade Center that the evildoers would pay for their crimes. A year later, he found out that he would never set foot in Afghanistan, the home of those evildoers, but would be sent instead to Iraq – the first in a litany of mistruths and disappointments Tomas would face. A self-declared liberal and now a member of Veterans Against the Iraq War, Tomas struggles with depression and ambition. One moment, he inspires crowds and confronts politicians and then lays immobile in bed the next.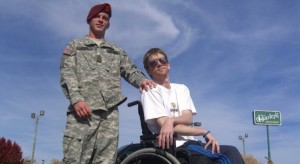 Tomas's fiancée, Brie, marries him early in the film, despite knowing the extent of his paralysis, and the film does not gloss over the details of his medical condition or the myriad drugs and treatments he has to endure. Brie essentially becomes Tomas's nurse. Nathan, Tomas's younger brother, is, despite his brother's injuries, getting ready to be deployed. He and his stepfather are the two more conservative members of the family. In one of the film's most gut-wrenching moments, we witness the last night's festivities before Nathan and his regiment are deployed. The various families huddle together saying their goodbyes, and his mother must be at once strong, supportive, and maternal. She struggles to meet the challenge and nearly falls completely apart after watching him – perhaps for the last time – leave for Iraq. Even though we observe so many of the family's intimate moments, the film never feels exploitative or simplistic. Tomas and his mom come off as warriors and kindred spirits; the family is ideologically split down the center. And whether it was intentional or not, the film's richest irony is that while Tomas may be sentenced to a life in a wheelchair, it is our nation's leaders who have proven to be paralyzed in finding a way out of the war.
Former talk show host Phil Donahue, a consistent target of the conservative right, was wise in hiring co-director Ellen Spiro, someone with much experience in political documentaries but who has stayed under the radar. Donahue's critics will most likely, if not somewhat begrudgingly, give him his due for the film's sober approach, which will both move you to tears and utter outrage. It appropriately joins "An Inconvenient Truth", "The Fog of War" and "Bowling for Columbine" – to name just a few – in being named best documentary by the National Board of Review.