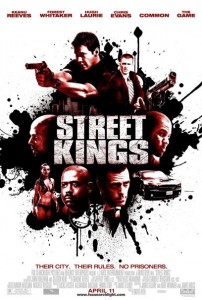 Directed by David Ayer
Written by James Ellroy, Kurt Wimmer & Jamie Moss
Director of Photography: Gabriel Beristain
Edited by Jeffrey Ford
Released by Fox Searchlight
USA. 107 min. 2007. Rated R
Cast:  Keanu Reeves, Forest Whitaker, Hugh Laurie, Chris Evans, Martha Higareda, Naomie Harris, Jay Mohr, John Corbett, Cedric the Entertainer, Common & the Game
[Article originally appeared: http://film-forward.com/streetki.html]
Keanu Reeves has a fairly narrow range as an actor, but when he stays within his limits, he generally delivers a pretty decent performance. So in those instances when he plays a steely stoic role, it's fine because the demands on him are minimal; just stand there and look good in a tight clothes… no problem. He was able to carry that off superbly as Neo in the three "Matrix" movies, think of them what you will.
The other resource that works well when he taps into it is self-deprecating humor. Reeves is an apt comic as he proved quite ably in both "Something's Gotta Give" and "Thumbsucker". In the former, playing against such heavyweights as Diane Keaton and Jack Nicholson, he expertly held his own as the younger doctor who seduces Keaton's anti-Mrs. Robinson character. Likewise in Mike Mills' "Thumbsucker", he plays an orthodontist who is just a bit off-the-wall. Maybe he should stick to parts with medical degrees.
"Street Kings", directed by David Ayer ("Harsh Times"), is a grim affair for which Reeves is not really suited. While he advantageously only shows vestiges of boyishness here, the demands of playing the recently widowed Detective Tom Ludlow are too great. Simply put, Reeves doesn't do dark. Someone like Sean Penn or even Matt Dillon would have been better suited to play this vodka-swilling cop. And since the story by crime novelist James Ellroy is series of clichés – the one good cop with a conscience among a team of rogue cops – there is an essential need for a convincing actor to anchor the movie. Think "Serpico", which is actually referenced offhandedly at one point. The screenwriters (Ellroy, along with Kurt Wimmer and Jamie Moss) should have paid more attention and respect to Sidney Lumet's 1973 movie. Unfortunately, they may have paid closer attention to the latter day work of Al Pacino, like "The Devil's Advocate", for example.
With a weak Bronx accent —the story takes place in Los Angeles, by the way— Forest Whitaker plays Captain Jack Wander, who is hiding a lot of secrets, some in his heart, more inside his living room wall. He and a colorful department of trigger-happy cops (actors Jay Mohr and John Corbett among them) are the corrupt cops in question. Rounding out the cast are Hugh Laurie as an internal affairs guy ("House" with a desk job and a gun) and Chris Evans as the other honest policeman in L.A. Cedric the Entertainer plays a drug dealer who leads Ludlow to the bad guys, rappers Common and the Game, very good as thugs you don't want to run into in a brightly lit ballpark, let alone a dark alley.
"Street Kings" is another example of an overwrought melodramatic blockbuster where audiences will be assaulted with violence, loud sound effects, and implausible plot lines. My advice is to skip it and wait it out for the next excellent "Bill and Ted" adventure.