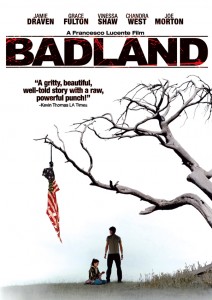 Edited, written & directed by Francesco Lucente
Produced by Olimpia Lucente & Jörg G. Numann
Cinematography by Carlo Varini
Music by Ludek Drizhal
Released by Copex
USA. 165 min. Rated R.
With Jamie Draven, Grace Fulton, Vinessa Shaw, Chandra West & Joe Morton
[Article originally appeared: http://www.film-forward.com/badland.html]
In "Gone Baby Gone", Ben Affleck's recent directorial debut and foray in histrionics, we are schooled in the statistics of child abductions. It's as though offering this data somehow justifies making the audience sit through the movie. In order to compensate for the film's lack of depth or character development, we instead get some numbers tossed on the screen or published in the press materials. Then wham bam, you have a serious issues-oriented film all dolled up for Oscar consideration.
I can tell when I'm being hoodwinked. And the distinct odor of lazy film making has never been so transparent as it is in Francesco Lucente's "Badland". Even the movie's title is derivative. At the start, we are introduced to Jerry (British actor Jamie Draven who played the older brother in "Billy Elliot"), an Iraq War veteran, who has not been adjusting so well to life back at the Wyoming trailer home he shares with his pregnant wife, Nora (Vinessa Shaw), their two sons, and young daughter, Celina (Grace Fulton). They struggle with bills and barely make ends meet while a depressed Jerry works in a nowhere job at a local gas station. The first 15 minutes are filled with Jerry and Nora fighting in front of their kids, tossing the 'F' word around like a tennis ball. Why they hate each other so much yet procreate at such a pace is never really explained, nor are Jerry's nose bleeds.
After a few more scenes where both tension and problems rise, Jerry discovers that Nora has been socking away cash in her cleavage for God knows what. We are supposed to believe that this tips Jerry over the edge. A few moments later, in the film's first of several unforgivably brutal moments, Jerry completely cracks, shooting and killing the pregnant Nora and the two boys, but taking mercy on his pleading daughter. From there, we spend the next two-and-a-half hours with Jerry and Celina as they settle into small-town life with new identities, laying low in a motel. When Jerry goes to get a cup of coffee at the local diner, he is conveniently offered a short-order cook's job by the establishment's owner, who just happens to be a young blonde hottie (Chandra West, one of the film's few positive contributions) and who also happens to be widowed. Later, she also offers to let both Jerry and his daughter move in with her, telling him they can share the bed but he doesn't have to feel compelled to sleep with her…er, right.
To go on describing this preposterous story would be a waste of time as would be paying the 11 or 12 dollars to see this completely unbelievable film. Whether it is Draven's weak American accent or the gratuitous outbursts of violence against several of the movie's main characters, including a sadly wasted talent like Joe Morton, the worst of the film's faults is how it exploits the experience of returning veterans to explain away Jerry's abhorrent behavior. For your money, you're better off seeing a true examination of soldiers in documentaries like James Metropole's "Back from Iraq: The US Soldiers Speak" (2005) or Jon Alpert and Ellen Goosenberg Kent's "Alive Day Memories: Home from Iraq" (2007), to name two.
November 30, 2007