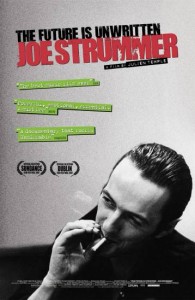 Directed by Julien Temple
Produced by Amanda Temple, Anna Campeau & Alan Moloney
Director of Photography Ben Cole
Edited by Mark Reynolds, Tobias Zaldua & Niven Howie
Released by IFC First Take
Ireland/UK. 124 min. Not Rated
Friends sit around a campfire, reminiscing, drinking, and jamming, just a few yards from the riverbank. It hardly sounds like the setting to pay homage to a man who wrote lyrics like:
On the Rio Grande they'll tie you to a tree
And you can't call the lawyers 'cause the whorehouse is asleep
You people will get weak
They'll throw you in a cell where you can barely breathe
The aforementioned tribute is for Joe Strummer, the legendary punk musician and Clash bandleader, who is given his due in this terrific, if not a bit lengthy, new documentary, "Joe Strummer – The Future is Unwritten", by Julien Temple. The choice for the fireside location becomes clear later in the film.
There is no more fitting person to make this film than Temple as he was right there with the Clash, just as he was with the Sex Pistols ("The Great Rock 'n' Roll Swindle", "The Filth and the Fury"), filming Strummer's band at its most infamous worst or best, depending on who speaks. Fortunately for Temple and us, there is a large archive to pull from, allowing Strummer to narrate the film right from the grave. Morbid? Not at all. And while some of the talking heads get choked up at various points, the documentary is more life affirming than you might think would be the case.
Strummer, as we learn through the anecdotes of his friends – none of whom are referenced until the final credits roll – had his struggles with drugs and alcohol but was rooted enough to work through them. In one amusing anecdote, he recalls that a number of years after the Clash had broken up, he made a decision to decrease his drinking, only to be asked to tour with the Pogues, hardly the most temperate group of musicians. Amusing stories, interspersed with animations of Strummer's artwork, and the fantastic music make this movie so uplifting. It also becomes apparent that, though Strummer was a complicated person, he didn't burn many bridges in his 50 years. Even after being thrown out of the band at its height of success, one of the most visible personalities is fellow Clash-mate Mick Jones, the Roger Daltrey to Strummer's Pete Townshend, if you will.
While the Clash years are obviously the center point of both the film as well as Strummer's musical career, we are taken through the many phases of Strummer's life. He was born John Graham Mellor, in Ankara, Turkey, in 1952, one of two sons of an English diplomat. For most of young John's life, the family moved from one country to another. John and his brother, David, were later sent to a London boarding school and were, for all intents and purposes, on their own. As a teenager, John started attending live jazz and rock shows that would inspire him to soon pick up the guitar. He formed a band and changed his name to Woody (for Woody Guthrie). The music was fairly straightforward rock.
In the late '70's, he gets caught up in London's squatter community and is exposed to the burgeoning punk scene. He changes his name to Joe Strummer and meets Jones, and their band, the Clash, hits at just the right time. What separated the group from most of the other punk bands of the day was its radical politics, which can be found in all their records but perhaps none so much as on Sandinista! Joe's post-Clash days are also accounted for, which include a solo career, domesticity, a film career, and the birth of the annual Strummerville campfires, a place for anyone to come and bond over music in the English countryside.
It is the campfire theme that becomes the common thread and ties the entire film and Strummer's journey together. To quote Temple directly, "Just as in his lifetime, we had people from all walks of life sitting by the fire, listening to the music that was so much of his life. It was a place to lose themselves in the flames; in the firelight everyone is equal." In 2002, Strummer's life was snuffed out too early from congenital heart failure, a condition which might have taken his life at any point. Thanks to Temple's homage, Strummer's memory still burns bright.