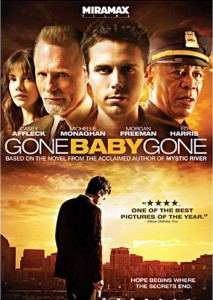 Written & directed by Ben Affleck
Produced by Alan Ladd, Jr., Dan Rissner & Sean Bailey
Written by Affleck & Aaron Stockard, based on the novel by Dennis Lehane
Director of Photography John Toll
Edited by William C. Goldenberg
Released by Miramax
USA. 115 min. Rated R
Cast:  Casey Affleck, Michelle Monaghan, Morgan Freeman, Ed Harris, John Ashton, Amy Madigan & Amy Ryan
[Article originally appeared:  http://www.film-forward.com/gonebaby.html]
There oughta be a law that all future Boston-based movies have to take place in Pittsburgh or Cleveland. In recent years, we've seen our share of the genre – perhaps we'll refer to them as chowder flicks – among them "The Departed" and "Mystic River", the latter which, like "Gone Baby Gone", was adapted from a novel by Dennis Lehane. In case you don't recognize the Boston patois, it hasn't come all that far along since I pahcked my cah in Hahvad Yahd.   In fact, it's one of many clichés, among the red herrings, in Ben Affleck's overwrought directorial debut.
As private investigator Patrick Kenzie, Casey Affleck (a fine actor to be sure — see "The Assassination of Jesse James by the Coward Robert Ford" if you can) is about 10 years too young for the role. But that's okay; the screenplay smooths over that logistical problem by having several of its characters tell Patrick that he looks too green, but his partner and girlfriend Angie Gennaro (Michelle Monaghan) is just as fresh faced as he.
When a four-year-old girl is kidnapped from her drug-addicted single mother/monster (a convincing Amy Ryan), the little girl's aunt (Amy Madigan) and her husband, both disenchanted with the police's investigation of the kidnapping, hire the local investigators, who specialize in missing persons. Madigan, slipping seamlessly into hausfrau mode, is just one of many fine actors obviously doing the director an enormous turn.
The police investigation is headed by Captain Jack Doyle (Morgan Freeman), whose own daughter, we learn, was kidnapped and killed many years earlier. So you see, Doyle has a personal mission to find the kidnapped victim and nothing will stand in the way. We also learn through convenient exposition that any likelihood of a child being found alive after the first 72 hours is less than miniscule. Worst of all, the film's press materials include a load of statistics about missing children as though this movie was some sort of testament for those kidnapped victims. Rather, it's a melodrama trying to pass itself off as a work of advocacy.
For most of the movie, Patrick confronts local hoods and cops – is there any difference you may ask? – two of whom are played by a ham-fisted Ed Harris and somnambulant John Ashton. Casey Affleck, mumbling his lines incomprehensibly, never misses an opportunity to brandish his gun, and he has to walk the line of not seeming smarter than the thugs he has to interrogate. But eventually, the trail of clues ends up to a most preposterous conclusion. What plot turns you don't see coming are not worth even finding out.
Some of the film's more redeemable aspects include its depiction of a workaday Boston neighborhood and its inhabitants, mostly cast from the local street culture where the movie takes place. There's no doubt that the cast is A list; but the true crime of "Gone Baby Gone" is how that talent is wasted in a film with so weak a payoff.