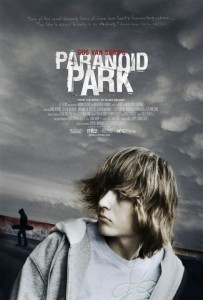 Directed by Gus Van Sant
Written by Gus Van Sant & Blake Nelson
Edited by Gus Van Sant
Cinematography by Christopher Doyle
Cast: Gave Evans, Daniel Liu, Jake Miller, Taylor Momsen & Lauren McKinney
IFC Films
France/USA. 85 minutes. Rated R.
[Article originally appeared: http://thefilmlot.com/tflblogwp/?p=121]
It has already become indie lore that "Paranoid Park", Gus Van Sant's new film, was cast through MySpace. It's not so outrageous when you consider that most of the actors average about 15 years old and, characteristically, Van Sant wanted as natural a cast as possible. In keeping with "Jerry" (2000), "Elephant" (2003), and "Last Days" (2005), the film has that meandering, long take vibe.
The film goes back and forth in time, a popular device these days, but one that works particularly well in a movie that is pretty much a suspense story. Each time the film's plot is advanced forward you get fed clues to the mystery. The mystery in question is the grizzly death on a set of train tracks located very close to the skateboard park of the movie's title. Alex (Gabe Nevins), a high school student and skateboarder is experiencing heavy duty problems at home: his parents have split and his cheerleader girlfriend (Taylor Momsen) just seems to be using him to advance her own social status. We see Alex keeping what appears to be a diary throughout and which becomes a central device. It's also one of the things that humanizes Alex. He comes across as thoughtful and sensitive and even has something resembling a sense of humor. This is what, for me, separates this movie from Van Sant's other more recent output. Alex's journey over the course of the few days and the choices he makes clearly shows emotional growth. It's refreshing in a movie where Van Sant could've chosen to show the similar disaffected kids who roamed through Elephant. There is one scene between Alex and his father, who has recently moved out, which is actually quite moving. The father, in spite of his brief screen time, is one of several adults who come across fully realized. Another is a police detective (Daniel Liu) who visits the high school to interview its "skateboarding community".
Having been an enormous fan of Van Sant's earlier work — I hate when people say that — especially "Drugstore Cowboy" (1989) and "To Die For" (1995), I've been less devoted in recent years. But one must give Van Sant his due. He continues to be one of the most experimental filmmakers and true to his own artistic vision. "Paranoid Park" just happens to be his most accessible film in a while. Also worth noting is the most exciting soundtrack since "Punch-Drunk Love". It's at once unnerving and breathtakingly lovely.