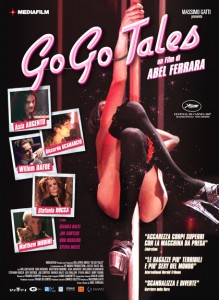 Written & directed by Abel Ferrara
Cinematography by Fabio Cianchetti
Edited by Fabio Nunziata
Production Design by Frank DeCurtis
Cast: Willem Dafoe, Bob Hoskins, Matthew Modine, Asia Argento, Sylvia Miles & Burt Young
USA/Italy.  2008.
[Article originally appeared: http://www.rabbireport.com/archives/2007/10/nyff-07-review-1.htm]

Abel Ferrara's new film "Go Go Tales" takes place almost entirely in a seedy New York City strip club called Ruby's Paradise and will likely be cause for some controversy due to a scene involving a dancer who compensates for her lack of talent with an act involving her affectionate Rottweiler. While the look of Ferrara's film is reminiscent of the Cassavettes 1976 cult classic, "The Killing of a Chinese Bookie" (both involve strip club owners who must come to terms with their gambling addictions) the comparisons end there. While the cast of misfits in both pictures have created makeshift families where they work, Bookie is far darker in both look and tone ("Go Go Tales" is apparently a comedy) and the former film is… well… better.
With a colorful cast, including Willem Dafoe as club owner Ray Ruby, Matthew Modine as his silent partner & brother Johnie, Bob Hoskins, Sylvia Miles in yet another memorable role, and various dancers, bouncers and club patrons, a mostly entertaining 96 minutes transpires but the film is far from great. "Bad Lieutenant" or "The Funeral" are two far superior Ferrara films. However, whatever the film lacks was more than made up for by the press conference which followed. Here are a few of the highlights.