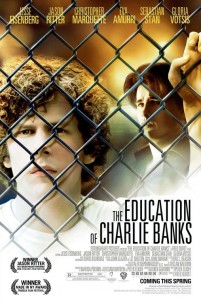 Directed by Fred Durst
Writen by Peter Elkoff
Edited by Eric L. Beason
Cinematography by Alex Nepomniaschy
Produced by Marisa Polvino
100 min
[Article originally appeared: http://www.rabbireport.com/archives/2007/05/tribeca-07-revi-2.htm]

To be honest when I heard that Fred Durst, front man for 'Nu Metal' band Limp Bizkit, had won the Made in NY Award at the 2007 Tribeca Film Festival for his directorial debut "The Education of Charlie Banks", I scoffed. This is the guy whose wrote all those sophomoric songs about… well, I don't really know what his songs are about since I never read his lyrics but I assumed they were just about getting laid and smoking blunts. What could he possibly have to say in a feature length movie? Well, you know what happens when you assume… In short, I was wrong. Charlie Banks is a solid film. Not perfect but several notches above your standard festival fare. It's a well made movie that I found thoroughly entertaining and engaging and I'll admit, I seriously prejudged Durst.
According to the press notes, Durst only got into music in order to direct music videos. This, he figured, would be the shortest distance between his meager beginnings and becoming a film director. If that's true, then Durst is smarter than the persona that's portrayed in the media. Wouldn't be the first time.
The story unfolds primarily in the 1970s with Charlie (Jessie Eisenberg, "The Squid & The Whale") and Danny (Chris Marquette), two privileged kids from Greenwich Village who are in awe of local street tough, Mick (a great Jason Ritter). In a brief violent prologue, the three are at a high school party where an incident creates a bond that follows them through the core of the movie. After Charlie and Danny are settled into academic life at what appears to be Vassar College, a spontaneous visit from Mick sets things in motion. Though Charlie is the central character, it is Mick who is the most compelling. It's his journey, his experience of redemption on a college campus, that held the most intrigue for me. I found the character of Charlie, while wonderfully played by the well cast Eisenberg, to be less formed. Is Charlie cowardly or brave? Does he have integrity or not? Is he insecure of confident? By the end of the movie I was wondering why the character referenced in the title wasn't Mick.
And while the film manages to feel original it does fall prey to occasional melodrama. In the end though, the movie is a throwback to coming of age stories like Breaking Away, Four Friends, and others of that ilk. If this film –surely to hit theaters very soon– is any indication of Fred Durst's skill as a director, I'll be looking forward to his next movie indeed.