I recently attended  the press screening of the new British comedy "Submarine" directed by first-time feature filmmaker, Richard Ayoade. Ayoade [pronounced ah-you-ah-day], whom I interviewed earlier today and who puts deprecating back in the term self-deprecating, has a background in television as well as music videos.  In fact, his work directing The Arctic Monkeys in some videos &  a live concert film for Warp Films helped him secure "Submarine" since Warp produced the film.  Getting the film properly exposed to a wide audience has not been a problem in the U.S.  Not only did The Weinstein Company buy the movie but Ben Stiller is its Executive Producer.
I also attended the film's New York City press conference in the afternoon held at The Crosby Street Hotel, which has become the spot for films, press junkets and the like. Sitting on the dais were Arctic Monkey's front man and songwriter Alex Turner (who looks and sounds like "A Hard Day's Night" era John Lennon), director Ayoade and Mr. Stiller himself.  I was actually wondering how he found the time to be there between making more "Night at the Museum" and "Focker" sequels, before I found that I was quite wrong.  In fact, there are no plans for either a Museum or Focker sequel (for the moment anyway).  No, rather, Stiller divulged that he was busy developing a sequel to the 2001 "cult" comedy, "Zoolander".  No joke.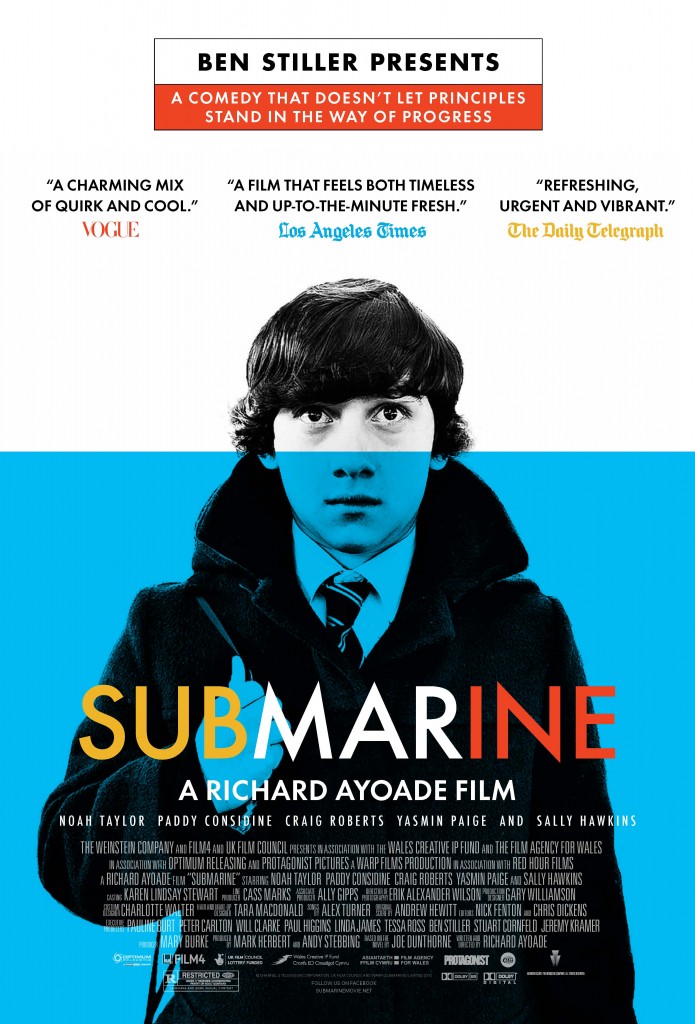 But getting back to "Submarine" for a moment.  The movie is a coming of age story about 15-year old Oliver Tate (Craig Roberts), the sullen son of a middle class couple whose marriage is going through a bad patch.  Fortunately Sally Hawkins and Noah Taylor play the parents. Oliver is also smitten with his red riding hooded class mate, Jordana (Yasmin Paige).  The problem is that neither of the young actors real stir up anything close to resembling chemistry or charisma.  The film is being promoted in the vein of Catcher in the Rye, but I just don't see it.  It's not a bad movie but it just doesn't have the liveliness of, say, Harold and Maude, another film it's being compared to.  The only moments that truly come alive are the scenes with Hawkins and an ex-lover who threatens to cuckold.  That role is played by Paddy Consadine and it's a meaty role.  He plays a failed actor who has found success as a new age public speaking guru. With his combination spiky hair and mullet, and swagger, he's a hoot.
It was unfortunate Consadine wasn't there to add some life to the otherwise lifeless press conference. If he wasn't checking his Blackberry, Stiller sat smirking most of the time. It's not that he gave off the impression that he wasn't behind the film but it was clear that this was a mere blip on the map of his steroidal career.  I think between this film and the recent toe-dipping he took in "Greenberg", he's probably through for the moment with indie films.